HomeGroup is a collection of small group gatherings in homes and shops across North Norman, Moore, South OKC, and Edmond.
HomeGroups are a way for members of the church to meet and grow deeper in their spirituality and discipleship, share their joys and burdens with fellow Christians, and pray.
Our three main goals are:
Quickly becoming an important part of peoples' daily lives, HomeGroups at Moore First are uplifting and energizing.
We invite all that can use a "faith lift" to join one of our many HomeGoups TODAY!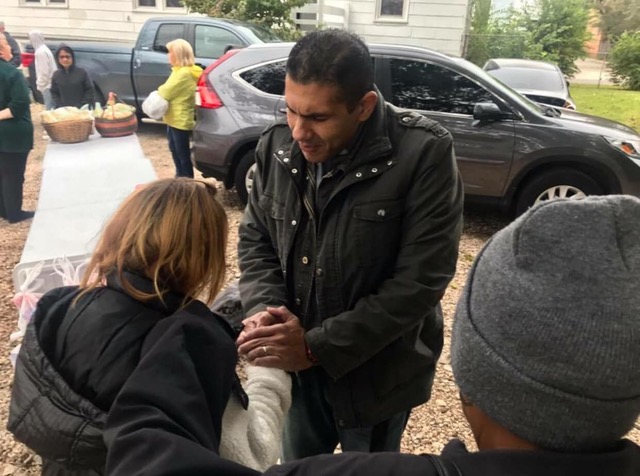 Moore 1st Street Outreach Ministry
The purpose of this ministry is to serve individuals without shelter in our community. Many of these individuals stay on the streets despite the weather or their needs.
We partner with other churches and nonprofit organizations to serve, build trusting relationships, change these lives and share God's love and grace.
We mobilize passenger buses, filled with volunteers, food and clothes. We also have a mobile kitchen equipped to feed and serve people in under-resourced neighborhoods. We encourage individuals and other organizations to partner with us.
As of June 2022, we've served 863 meals and coordinated 81 volunteers, 24 from our church.
If you are interested in volunteering, please contact Pastor Andre Contino.
Email: [email protected]
Phone: 405-794-6671
Moore Common Threads 3:00 p.m. | Facilitator | Primary Focus: prayer shawl and prayer bear group practice (Benefiting Covenant Care Ministry Team and Visitation Ministry Team)
Ladies Bridge | 12:00- 2:00 | Fellowship Hall
UMW Quilters 9:00 a.m. | Facilitator Joyce Statton | Focus: quilting group practice (Benefitting Infant Crisis Center, Women's Shelter)
Women's Retirement 10:00 a.m. | Facilitator Kathleen Frye |  Focus: women early in retirement
Lectio Divina "Divine Reading" 8:00 a.m. | Facilitator |  Focus: lay Bible reading