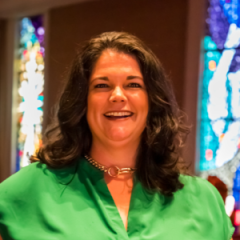 Before coming to Moore, Shyloe earned her Bachelor of Arts in Communication Studies from Northeastern State University, Master of Divinity from Duke Divinity School, and Master of Business Administration at Dakota Wesleyan University.
After working as a Children's Minister for First UMC in Wagoner and interning for suburban and rural churches in North Carolina, she worked as Associate Pastor at McFarlin Memorial UMC and Senior Pastor at Jones UMC.  
Her roles include the Oklahoma Annual Conference Committee on Finance and Administration, Communications Team, Denominational Transitions Team, and the UCO Wesley Foundation Board of Directors.
Shyloe has two children, Trenton and Raeleigh. Her interests include road trips, visiting National Parks, gardening and cooking.
Shyloe wants to help people grow closer to Jesus and find their passion to serve their local community. knowing people requires hearing their stories and seeing where they are gifted to bring others up. An authentic life is lived together through celebrations and sorrows.
Shyloe looks forward to developing strategies for effective discipleship in the church and the world. 
Rev. Shannon Davis comes to Moore First as Associate Pastor after 10 years as Senior Pastor of Woodward First United Methodist Church. Previous to Woodward, Shannon pastored at churches in Wagoner, Tulsa, and Guymon. He also served on the staff of various ministries in Stillwater, South Central Oklahoma, and Alpharetta, GA previous to being ordained.
His hobbies include playing the violin, doing spin classes on his Echelon bike, keeping up with OSU athletics, and caring for the family pets – two cats, two parakeets, several fish and two bunnies.
Shannon and his wife, Jan, celebrated their 25th anniversary in July 2023. They have three sons. Jacob works in music and tech at a United Methodist Church in St. Louis, MO, and is married to Brienna, a doctor currently doing her residency in Michigan. Solomon works at the same church as Jacob doing similar work, and Eli will be a sophomore this Fall at UCO in Edmond, OK. Eli is studying computer science.
Shannon holds a bachelor's in business management from Oklahoma State and a master's of divinity from Emory University in Atlanta, GA. Shannon has earned the title of Certified Renewalist from Creating a Culture of Renewal, a three-year curriculum that helps clergy and congregations discern and achieve Jesus-sized dreams.
He also completed two years on the faculty for this nationwide program.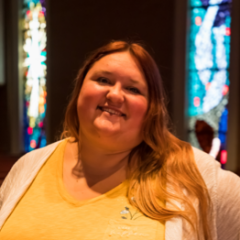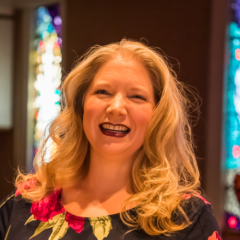 Director of Children's Choir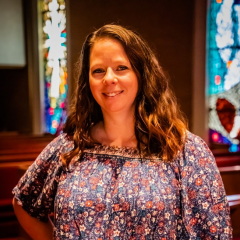 Dr. Charles Joshua "Josh" Phelps
Director of Music Minsitry